Skip to Content
Spoon Me Soups: Healthy and Hearty Catered Soups
We started Spoon Me Soups in 2013. Since then, we've built a reputation for delivering delicious catered soup to Bergen County, NJ event planners. We love soup because it's filling but light, which makes it a perfect addition for a low-key event or a wedding rehearsal dinner. More importantly, our soups use all-natural ingredients and are all vegetarian. We also have gluten-free and vegan alternatives. No matter whether you choose the Classic Gazpacho or the Chilled Cucumber Dill Soup, the result is lip-smacking deliciousness.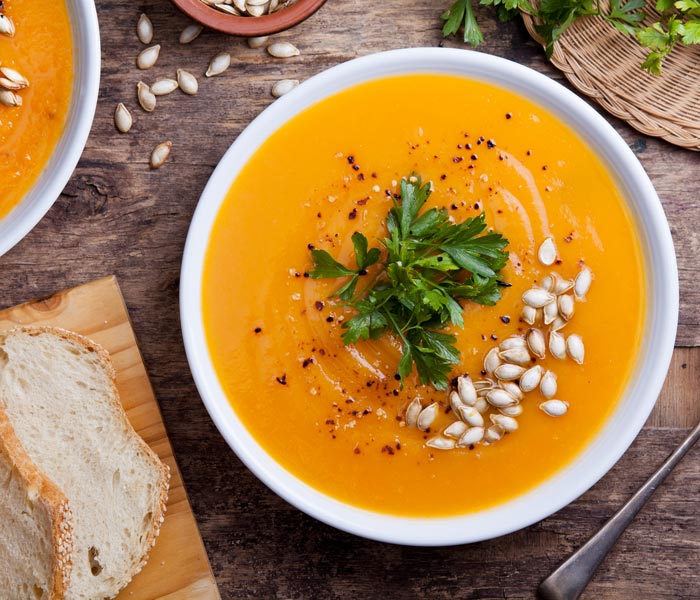 Hit Catering Jackpot with Spoon Me Soups
Spoon Me Soups offers a wide range of chilled soups. They run the gamut from savory to tropical and are ideal for wedding rehearsal dinners, corporate events, and your Tuesday afternoon lunch. Our chilled soups include:
Classic Gazpacho
Vegan and Gluten-Free
Ingredients:
Tomatoes
Red Bell Peppers
Cucumbers
Onion
Extra Virgin Olive Oil
Sherry Vinegar
Garlic
Salt
Pepper
Chilled Mango Coconut Soup
A refreshing tropical treat | Gluten Free
Ingredients:
Mango
Coconut Milk
Yogurt
Milk
Orange Juice
Lime Juice
Chilled Cucumber Dill Soup
Gluten Free
Ingredients:
Cucumber
Dill
Low-fat Greek Yogurt
Olive Oil
Salt
Garlic
Black Pepper
Apple Cider Vinegar
Onion
Chilled Strawberry Mint
Ingredients:
Strawberries
Fresh Mint
Low-Fat Yogurt
Local Honey
Enjoy Our Frozen and Chilled Soups
Spoon Me Soups believes other countries have so much to offer the culinary world. Each of our soups draws inspiration from the world cuisine that's dear to our hearts. From Moroccan zest to Spanish spice, our specialty soups create something new and exciting from old-world flavors. Contact our caterers today to get started. We also wholesale our products to restaurants and health food stores.
Do Right By Your Taste Buds!